Grimace - Gothic & Fairytale Circus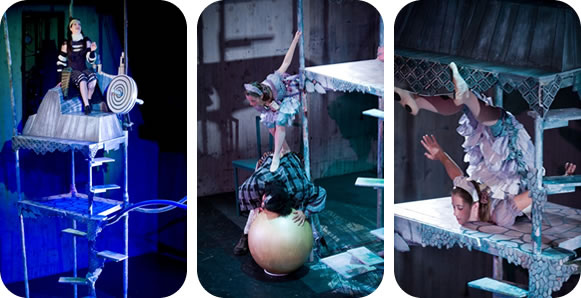 "I concede that Deborah Pope and her Awkward Company have aced the Grimms and rolled the Dahl".

John Smythe,Theatreview2010

Grimace ...is a fantastical world where Miss Muffet is chasing the giant and Jack is scared of the goose....just what you'd expect of this gothic fairytale circus where much loved tales are turned on their head literally......
Grimace was commissioned for the Capital E National Children's Festival , March 2011. It ran for 20 performances with sold out public performances and 90% houses with a school audience of 5-15yrs.

"There is nothing scary or bad about this giant, in fact once he has sung us a lovely son who could possibly unleash a giant killer on him...." John Smythe
' To avoid a cutesy pooh ending, the performers lapse into a grumpy child state...and some interesting thoughts and ideas are exchanged...good call.'..John Smythe
Touring 2012 medium scale theatre/ auditorium/touring party 8